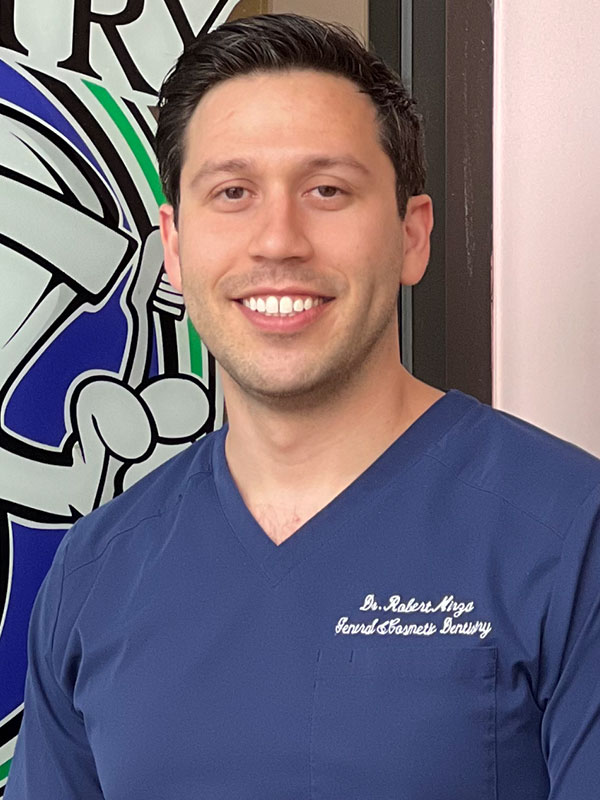 ---
Dr. Robert Mirza believes creating smiles is contagious. Above all, he is committed to providing high- quality, compassionate care. To do so, he employs a patient-centric approach tailored to meet each individual's needs. By involving patients in their care, Dr. Mirza crafts personalized treatment plans that prioritize patient needs and concerns while delivering the utmost care and professionalism.
Dr. Mirza, a New Jersey native, graduated from Stevens Institute of Technology with a B.S. in Chemical Biology. During his time there, he conducted research in polymer chemistry, which was published in the Journal of American Chemical Society. He then earned his dental degree from Rutgers School of Dental Medicine, formerly the University of Medicine and Dentistry of New Jersey, where he was inducted into Gamma Pi Delta, the prosthodontics honor society. While there, he served as a mentor for future dental students and participated in various community outreach efforts.
Dr. Mirza then completed a post-graduate internship in Oral and Maxillofacial Surgery at Rutgers University Hospital in Newark, NJ. During this intensive, year-long training, he developed skills in exodontia, dentoalveolar surgery, dental implants, facial trauma and reconstruction.
With a deep admiration for the dynamic field of dentistry, Dr. Mirza enjoys learning about and implementing advances in dental medicine. He regularly completes continuing education courses and prioritizes staying up to date with the latest research, cutting-edge improvements, and newest techniques. His practice scope involves implementing Cerec and 3D CAD CAM technology to deliver immediate and long-term results to his patients. He is also Invisalign certified.
Dr. Mirza is a member of both the American Dental Association and the New Jersey Dental Association, has completed the Aesthetic Advantage Program in cosmetic dentistry, and is actively involved in a Spear Study Club.
Outside the office, Dr. Mirza enjoys photography and spending time at the Jersey Shore.
---