To our valued patients:
We hope this letter finds you and your family in good health. Our community has been through a lot over the last few months, and all of us are looking forward to resuming our normal habits and routines. While many things have changed, one thing has remained the same: our commitment to your safety. We have, as an office, always positioned ourselves ahead of the infection protocol curve and will continue to constantly update and adjust our procedures.
Infection control has always been a top priority at DeNike Dental and you may have seen this during your visits to our office. Our infection control processes are made so that when you receive care, it's both safe and comfortable. We want to tell you about the infection control procedures we follow in our practice to keep patients and staff safe.
We follow infection control recommendations made by the American Dental Association (ADA), the U.S. Centers for Disease Control and Prevention (CDC) and the Occupational Safety and Health Administration (OSHA). We follow the activities of these agencies so that we are up-to-date on any new rulings or guidance that may be issued. We do this to make sure that our infection control procedures are current and adhere to each agencies' recommendations.
You may see some changes when it is time for your next appointment. We made these changes to help protect our patients and staff.
For example:
We will communicate with you beforehand to ask some screening questions. You'll be asked those same questions again when you are in the office. We will also be taking the temperature of all patients upon arrival.
We have hand sanitizer that we will ask you to use when you enter the office. You will also find some in the reception area and other places in the office for you to use as needed. We will also have HEPA Medical Grade Filtration Air Purifiers placed throughout the office.
You may see that our waiting room will no longer offer magazines, snacks and so forth, since those items are difficult to clean and disinfect.
Appointments will be managed to allow for social distancing between patients. That might mean that you're offered fewer options for scheduling your appointment.
We will do our best to allow greater time between patients to reduce waiting times for you, as well as to reduce the number of patients in the reception area at any one time. Unless you are a legal guardian or care taker, we ask that you come alone to your dental visit or have your guest wait in the car.
If you feel feverish, have shortness of breath or difficulty breathing, a cough or any other flu-like symptoms, we do ask that you contact the office so we can reschedule your upcoming visit. We look forward to seeing you again and are happy to answer any questions you may have about the steps we take to keep you, and every patient, safe in our practice. To make an appointment, please call 201-599-0001. If you have a dental emergency, please don't hesitate to call our office. Please leave a voice message or email us at denikedental@gmail.com.
Thank you for being our patient. We value your trust and loyalty and look forward to welcoming back our patients, neighbors and friends.
Sincerely,
Dr. DeNike, Dr. Skibinksy & Staff
---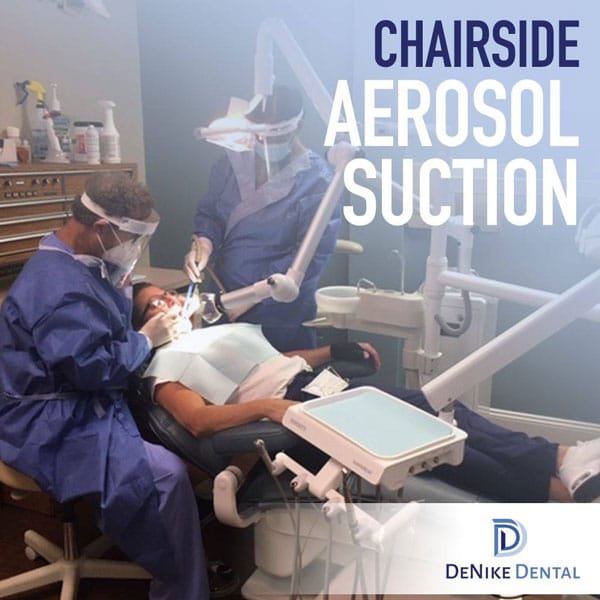 ---
COVID-19 safety is on all of our minds right now - especially at the dentist. At the office of Dr. DeNike, in addition to our already rigorous safety measures, we've incorporated chairside aerosol suction to our office. from JK Dental Group. This high-flow aerosol and dust collector removes particulates from the air during dental operations, further reducing potential virus transmission, so you can enjoy dentistry safer than ever before.